THE STORY CONTINUES IN COLORADO
Our first bitch came from Kaye and Sharon Ruske's DeCampo line. Ch Goldtone's DeCampo Missey's ( DC Goldtone's Doc X CH DeCampo's Miss Tuffy Brown)whose name appears in the pedigrees of Brittanys of many noteworthy breeding programs- such as Millette and  Copley Brittanys. Missey was bred to CH Sequani's Mr MacTavish and produced 4 Show Champions. One of Missey's  last and best sons was Timber's Goldtone Joker who was sired by DC Timber's Marquis De Colorado and won the ABC 1986 National Futurity field runoff. A daughter, CH Windtuck's Crystal Timber produced 2 show Champions for us from CH Prince Valiant's Happy Time, 2 show Champions from CH Millette's Downtown Brown and 2 grandson Field Champions from CH Jordean's All Kiddin' Aside JH..
Our second foundation bitch was one of the last daughters of NFC/DC/AFC Markar's Jac's A Dan D (Hall of Fame) when he was bred to our CH Windtuck Wolram Diving Dinah. "Dinah" was a special bitch who was on her way to being a Dual Champion.  Sadly she vanished never to be seen again while running at a field trial in New Mexico.  We are still heartbroken with her loss and cry every time we go to New Mexico.  Proudly, Dinah's last daughter from the magic  Jac's A Dan D cross was Ch Windtuck's Dan D Days MH.  "Daisy" was our first homebred Master Hunter and she produced Best in Show, multiple Best in Specialty Shows CH Windtuck Toby Aurand,JH.  "Toby" was  WD and BOW at the ABC Nationals at under 2 years of age with the late Dr. Dennis Jordan. Toby was sired by 51 Best In Show ,multiple Best in Specialty Show, long time #1 show Brittany CH Jordean's All Kiddin' Aside JH.  The amazing cross to our Daisy also resulted in  Ch Windtuck's Colors of the Wind SH (major field pointed and dual dog winner) , Ch Windtuck Maxwell's Jake and Ch Windtuck Shadetree Lady.
We purchased a daughter of NFC/FC/AFC Aux-Arc's Mark (out of  a NFC/DC/AFC Markar's Jac's A Dan D daughter) , who was our FC/AFC Windtuck KC Quiet Commotion JH.  KC was a Skyline Brittany Club Field Dog of the Year winner. She was bred to FC/AFC Sniksoh Free Boy and produced our  FC Windtuck's Enough Said  who was also a Skyline Brittany Club Field Dog of the Year winner.  Sadie was bred to Andi Christensen's FC  Making R-Point that resulted in American Field Champion 3 x RU AM FC/ AKC FC/AFC  Firestarter Crossed the Line.  "Ty" is producing national quality derby contenders.  Our "Sadie" was also bred to DC/AFC The Whiz Kid and produced FC Windtuck's Winter Jazz who produced GCH Firestarter's Clear Winter Night. That line continues to produce field and show winners for Andi today.
FC Windtuck's Rudy The Rowdy One JH(FC/AFC Sniksoh Little Rascal x Windtuck's Sweet Liberty) is OFA good. "Rudy" finished  his Field Championship on 9-10-11 with 3 majors defeating all pointing breeds. He also finished his Junior Hunter title."Rudy" was loved and owned by Curt and Ginny Daily. Thanks so much Curt and Ginny for loving Rudy and giving him the best care possible.  Thanks to our trainer Ben Garcia.  Rudy is available at stud with Ben Garcia at Hideaway Kennels.
FC Windtuck's Winter Jazz, JH  (DC/AFC The Whiz Kid X FC Windtuck's Enough Said)is OFA good and finished her field championship with Ben Garcia at the Nebraska Brittany Club trial on 4-12-09. She is close to completing her Amateur Field Championship. "Jazz" whelped two  litters sired by DC Timberline Strait To the Point JH. Firestarter's Clear Winter Night(Eve)) owner by our friend Andi Christensen –  "Eve" was RWB at the 2011 ABC National show, finished her show championship fall of 2012 and made a final bitch special cut at the 2012 ABC National show. Her younger sister FC Firestarters Country Girl(Paige)has been very competitve and is just a few points from finishing her show championship to be a Dual Champion!  We were very honored that "Paige" won a third place in the 2013 AKC derby classic with 28 all pointing breed competitors. Thanks to  Ben Garcia and Paul Dorion for their fine field training.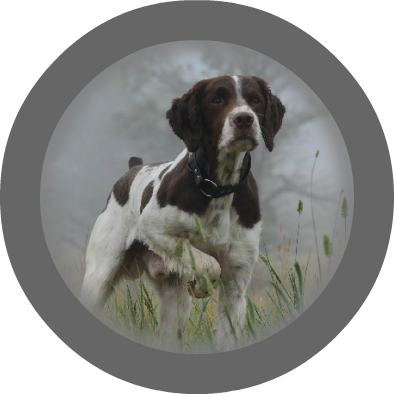 FC/AFC FireStarter's Crossed the Line(FC Making R-Point x FC Windtuck's Enough Said) OFA good is a beautiful moving liver male that loves to run,find birds and point with style. "Ty" has won Runner Up in the Nebraska All Age Championship and Ch in the Texas Brittany All Age Championship. Huge congratulations to "Ty's" owner Andi Christensen and handler Ed Tillson of Tequila Kennels.  We are so very proud of all that Ty has accomplished and are still hoping that he will win the National All Age someday.
FC Windtuck's Say My Name is a name you will certainly not forget.  He won his derby points first time out with Ben Garcia at the Colorado Pointer Trial.  With several  high placements in major Gun Dog and All Age stakes,he will continue to thrill us in open stakes. In the fall 2012 Kansas Brittany club trial, "Orlando" topped a field of the nation's top gun dogs by winning a huge first place win.  "Orlando" is owned by Derek and Sarah Onofrio and is out of FC Making R-Point and Windtuck's Say'n Like It Is,JH(DC/AFC Whiz Kid x FC Windtuck's Enough Said ). Orlando is the sire of our fall 2011 litter. We now have a daughter of one of our Orlando daughters sired by GCH CH Millette's On Target and she is Windtuck Millette Dora Explorer who is show pointed and we co own Dora with Michelle Millette.
Warmark's Windtuck Zoey MH finished her Master Hunter title for her proud owner Frank Pickle. "Zoey" was bred by Eric Gilliland out of his Paladin's Duke of Shire and Warmarks Windtuck Sally in Pennsylvania.
Our own Windtuck Sniksoh Tequila Margarita was proclaimed the winner of the Colorado Pointing Dog field trial competition open derby winner for 2011. Thanks to all of the judges for this award. We were deeply  saddened with her sudden death November 2012.
Our "Sophie" is Ch Windtuck's So Far So Good JH when our dear friend Odebt Massey finished her show title in Missouri .  Sophie has been bred to FC Decan's Bad as Blaze (direct son of NFC/FC Beans Blaze) and those wonderful puppies were all sold quickly.  Two daughters of that cross have their derby points, one of which is our Windtuck's Blazing Dynasty.  The last time Sophie she was bred she gave us a beautiful son of GCH CH Rainbow's Chasing Shadows JH and we named him Windtuck's Far From Over.  "Jack" is show pointed , won the 2016 American Brittany Club Central Futurity Best in Show and easily finshed his Junior Hunter.
FC Sniksoh Windtuck Willy won the 28 dog OGD stake at the 2013 spring Buckeye Brittany club trial and was RU in the 2014 Quail All Age Championship and won the Souther Oklahoma All Age Championship. "Willy" is owned by Jill and Chuck Schafer and handled by Bob Burchett. "Willy" is OFA Excellent and is from our golden cross of FC/AFC Sniksoh's Little Rascal and Windtuck's Sweet Liberty. We are so proud of Willy.